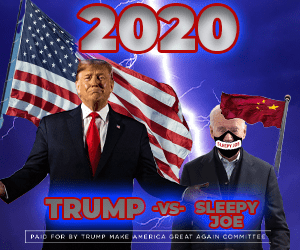 Forget the popcorn but remember the antacid and keep a copy of Trump's latest campaign ad,  the 'ObamaGate' video on hand, because the Democrat National Convention gets underway a week from this Monday.
"This new ad from the Trump campaign sets up a narrative they will use against Democratic presumptive nominee Joe Biden, accusing him and former President Barack Obama of having conspired to undermine the Trump administration from the start. (RealClearPolitics, Aug. 6, 2020
Democrats have gotten away with so many acts of treason and lawlessness. I am praying that this new video put out by Trump will place the final nail in the coffin of any hopes the Dems have for a victory in November 2020.
From canadafreepress.com
Latest Campaign Ad By Trump Campaign Points to #OBAMAGATE
Continued from Canadafreepress.com…….."
"It's a real conspiracy and no one is talking about it," the ad states."
The Convention will be the Grand Finalé of Election 2016 spread over three not-so-short days.
It will be strictly digital, strictly digital being Social Distancing Democrat style.
Viewers will be repeatedly warned that going out to vote on November 3 is guaranteed to have them catch the virus, and will be urged to mail-in their ballots instead.
But the overriding theme of the 3-day convention will be "IT" (everything bad)  is President Donald Trump's fault.  The pandemic (now in decline), the mobs rampaging out on the streets—"EVERYTHING!"
The pandemic known as Covid-19 is all Trump's fault.  He must have snuck into China and brought it back, and like Johnny Appleseed spread it through the whole frontier.
Systemic racism , which only came about after Nov. 8, 2016 is all his fault too, themes you'll hear ad nauseum as the desperado Dems let the public in on who will be Joe Biden's mouthpiece as vice president.
"The speaking lineup for this month's Democratic National Convention is beginning to take form, with several high-profile Democrats securing spots. (The Hill, Aug. 7, 2020)
"Rep. Alexandria Ocasio-Cortez (D-N.Y.), a progressive superstar, is expected to have some sort of speaking slot, a House member told Politico, and Sen. Elizabeth Warren (D-Mass.) and 2016 presidential nominee Hillary Clinton will also speak, according to Axios."
Yes, you read that right.  AOC is not just a leader of the Squad but a verifiable Democrat.  Besides, DNC organizers had to do something to keep the Bernie Sanders' gang clamor down to a dull roar.
"Warren and Clinton are reportedly slated to speak on Aug. 19, the day before former Vice President Joe Biden will formally accept the 2020 Democratic nomination. (The Hill)
No telling which one will out screech the other.
"Other Democrats expected to have speaking slots are Biden's wife, Jill Biden, whom Joe will not confuse as his sister this time, Speaker Nancy Pelosi (D-Calif.), Sen. Kamala Harris (D-Calif.) and, of course, "Resistance" leaders Barack and Michelle Obama. (The Hill)
"Both Warren and Harris are known to be on Biden's shortlist to be his running mate.
"Neither the Democratic National Committee nor the convention immediately responded to requests for comment from The Hill."
Of course not, who needs to get back to any news outlet when the entire digital world is their oyster.
"The convention has largely been relegated to digital events so participants can observe social distancing and other health guidance during the ongoing coronavirus pandemic. Biden was originally slated to deliver his acceptance speech from Milwaukee, but will now do so virtually from Delaware, his home state." (The Hill)
We won't know until Aug.17-20 whether BLM and antifa activists will be told to tone it down in order to get all eyes and ears on convention speakers, or to beef up street violence in order to show that the president's not in control.
"On Tuesday, President Trump joined FOX Business' Lou Dobbs for an exclusive interview where the two discussed several topics including the 2020 presidential election, the coronavirus pandemic, and U.S.-China relations. (PublishedReporter, Aug. 6, 2020)
"Trump called into the Dobbs' show for a live half-hour of details on democrats including talks about the investigation taking part by U.S. Attorney John Durham which Dobbs' ensured to ask about before the interview concluded and Trump said that the probe, requested by United States Attorney General William Barr, has uncovered "breathtaking" evidence about the "corrupt" origins of the Russia investigation, according to Trump."
Meanwhile, for the sake of holding on to sanity, download the ObamaGate video and keep it on hand between August 17 and August 20.

This is what the Democrats carried forth all the way from the 2016 election—and can't possibly walk back.

Trump Says Durham Investigation Evidence Is "Breathtaking"
Don't miss Lou Dobbs Interviewing President Trump about the hard evidence his administration has on the Democrats and their lawlessness – firstly,  spying on Trump's camp and also scheming to overthrow Trump in case he won.
Brethren, I know that we have seen so many things in the last 3 1/2 years which made us hopeful of people who committed criminal acts finally being tried and incarcerated if found guilty. 
Not one of these people have been touched by their crimes.
It is Time.
And less I forget this video which a friend just sent – you MUST watch this if your stomach can stand it:
https://www.facebook.com/plugins/video.php?href=https%3A%2F%2Fwww.facebook.com%2Fephrayim.odor%2Fvideos%2F10222081946653090%2F&show_text=0&width=357
 "And he changeth the times and the seasons: he removeth kings, and setteth up kings: he giveth wisdom unto the wise, and knowledge to them that know understanding" (Daniel 2:21).
Shalom b'Yeshua
MARANATHA!!